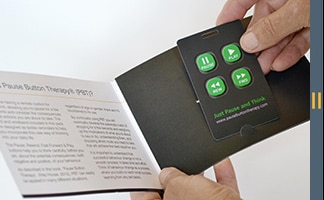 PBT and Unwanted Teen Pregnancies
Teen pregnancy rates have dropped to their lowest rate since 1969, according to government statistics.  However, 30,000 teenage girls get pregnant each year and the UK has the highest rate of teen pregnancy in Europe, despite also having the highest rate of contraception use. Reports have shown that the estimated cost to the NHS of teenage pregnancy is in the region of £63m per year (according to NICE) and the cost to the social support system is approximately £125m per year (according to the government statistics). It is clear that teenage pregnancy remains a current and serious concern.
Maybe Pause Button Therapy – Tactile CBT could be the solution.
.
---
How does PBT contribute to raising standards?
Children who feel more relaxed and confident in themselves are more effective learners.
Pause Button Therapy, can effectively be delivered over the course of just a handful of sessions. It is proven to help young people to pause, freeze time and think through the consequences of the actions they are about to take. It's like being at the movies and getting to choose the way the film ends. Except it's not like the movies. It's real life. And there are real consequences to every choice and every action – early pregnancy can impact health (teenagers are at a higher risk of death during childbirth than their older counterparts) and mental health, can limit education and job prospects, etc. So we want to instill in teenagers via the sharing of Pause Button Therapy how they can Stop and Think, Really Considering the Consequences of the action they are about to take:
What is the right choice to make?
What is the right action to take?
---
When teens use the pause button approach they begin, sometimes for the first time, to take control of their own behaviour. Suddenly they can think through their choices and make better decisions. They learn to visualise the outcome of their actions before they have happened. They learn to control impulsivity and the need for instant gratification and replace it with a balanced, rational and thought through response.
Pause Button Therapy – TacitleCBT is based around Professor Philip Zimbardo's Time Perspective Theory. Time perspective relates to the ability to consider all three time frames (past, present and future), and it influences our decisions and actions and shapes our life path. It helps us to simultaneously think about events in the past, present and future, to imagine potential future events and the consequences they might have, and to use all of this information to make better choices. And it is particularly effective with young people: after all, what teenager doesn't know how to use a remote control?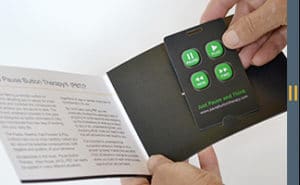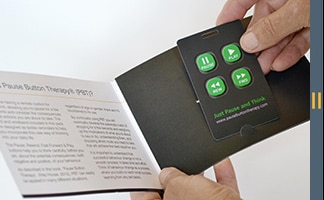 TactileCBT integrates Pause Button Therapy with established and robust cognitive behavioural therapy to produce an innovative new treatment approach. It works by interrupting the existing cycle of thought and behaviour, improving problem-solving skills, and restructuring thinking processes. It also creates a sense of personal responsibility, enhances motivation, and improves people's sense of control over their lives as well as their self-esteem (both of which have been linked to higher rates of treatment success).
Pause Button Therapy has been trialed with a number of children in schools in the Midlands. Preliminary research findings show that the approach has successfully treated a range of behavioural and emotional problems.
---
Contact Us

If you require any additional information around Pause Button Therapy and Tactile CBT. Further information regarding the PBT Cards and Wrist Bands, Work Books or the new Therapists Training Manual. Then , email us today using the contact form and we will be pleased to answer any outstanding questions you may have. We look forward to hearing from you soon and maybe meeting you and helping you change your life or of course assisting you to help others.
---