Pause Button Therapy News
Psychologies magazine dedicated two pages to the Pause Button Therapy element of the Gastric Mind Band Treatment and reviewed the publication of the Pause Button Therapy book published by Hay House in November 2012.
Read the article.
---
Daily Mail newspaper features Pause Button Therapy.
The Daily Mail featured a story about Katie Drew, a past client of the Elite Clinic in Spain who has lost nearly half her body weight thanks to PBT, they described it as a 'fat controller' - a mock DVD-style zapper that made her stop and think about what she is eating. She explained how she now paused 'Time' and really considered the consequences of her actions, often making completely different choices. Interestingly, it was also noted that the device and technique had positively changed other areas of her life.
Read the full story.
---
Martin & Marion Shirran filming in the UK.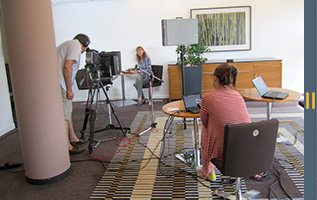 Martin and Marion Shirran flew to the UK to work with a team from Vector TV productions; they filmed a number of short promotional films for use by Amazon and Hay House Publishers to promote the new book Pause Button Therapy. You can watch a selection of videos which accompany the book on our YouTube channel.
---
 Gay Jones, was invited to Cyprus by Professor Stelios Georgiou.
Gay Jones, was invited by Professor Stelios Georgiou of the University of Cyprus to train a mixed group of Masters, Doctoral and Post-Doctoral psychology students in the theory and practice of PBT. The event was also attended by representatives from the Ministry of Education, Armed Forces and Psychological support services as well as a Professor from a Greek University. A study into the effectiveness of PBT in changing the behaviour of peer aggressive pupils was also scheduled. Trials of Pause Button Therapy commenced in three Cyprus hospitals to support patients on discharge. Initial feedback has been positive and continues.
---
Praise from Professor Windy Dryden of Goldsmiths' College London for new PBT book.
Professor Windy Dryden of Goldsmiths' College London reviewed and praised the Pause Button Therapy book on publication. The the book received amazing pre-publication reviews from a wide range of respected authorities, Professor Stelios Georgiou, Professor of Educational Psychology at the University of Cyprus.
---
PBT at the First International Time Perspective world conference in Portugal.
Pause Button Therapy was the subject of an oral presentation at the First International Time Perspective world conference at the University of Coimbra in Portugal. The Conference showcased cutting edge research in this field and will have Keynote speakers including Professor Philip Zimbardo of Stanford University. The PBT paper was written by Dr Theano Kalavana.
---
PBT training in Bahrain and Dubai.
Martin & Marion Shirran were invited by Dr Leila Edwards to visit and introduce Pause Button Therapy to a group of therapists with the Transformations Institute in both Bahrain and Dubai. The two day course in each location was attended by fifty delegates.
---
Dr Sarah Clarke and Martin and Marion Shirran at Warsaw University.
Dr Sarah Clarke, along with Martin and Marion Shirran delivered a symposium around Pause Button Therapy at the 2nd Annual Time Perspective Conference, at Warsaw University in Poland. Pause Button Therapy continues to attract the interest of professor Philip Zimbardo, Stamford University who was the keynote speaker. It is acknowledged that a level of similarities exists between the approach and the work of professor Zimbardo the co-author of The Time Paradox and The Time Cure.
---
Twickenham School in Birmingham, UK trials.
UK primary schools in the Midlands evaluated Pause Button Therapy. Gay Jones, Educationalist, co-ordinated a trial of PBT at Twickenham Primary School to help manage the difficult and challenging behaviour of six of their pupils. The children had extreme behavioural and emotional difficulties, and had been unresponsive to all other attempts to modify and manage their behaviour. The trials were highly successful. All of the children were able to grasp the concept quickly and easily, and parents, teachers, fellow pupils, as well as the children themselves, reported significant improvement in behaviour, emotional regulation and academic performance. A detailed review of the findings of these trials can be found in the Pause Button Therapy book (see chapters ten and eleven; Hay House, 2012).
John Taylor, Deputy Headteacher, and Nathan Ross, Head of Pastoral Care, of Twickenham School, both spoke highly of the positive impact that PBT had had on the school. They outlined the benefits the technique had brought for teaching staff, for the children's peers, for the classroom environment, for the parents and families of the children, as well as for the children themselves. Nathan stated that there had been a "dramatic change" in the behaviour of the children who were using PBT, and said that the school intended to use it more broadly, to help children with milder problems. John spoke of the benefits of a technique that was "so simple" to use and administer yet "so complex" in what it does and how it works. He said that most behavioural modification approaches were complex and time consuming, and therefore difficult to implement. PBT is the reverse, yet remains highly effective.
---
Pause Button Therapy/TactileCBT is for anyone who's ever made a mistake in their life and never wants to make one again. It's for anyone who wants to make a change.
---
Pause Button Therapy/TactileCBT Blog
Keep up to date with the latest news and trends around everything regarding Pause Button Therapy and TactileCBT, y visiting our Blog page. With new in-depth info being added every week make sure you book mark the page and visit regularly. Click here to see what everyone is talking about, feel free to share the link with your friends.
---
Contact Us

If you require any additional information around Pause Button Therapy and Tactile CBT. Further information regarding the PBT Cards and Wrist Bands, Work Books or the new Therapists Training Manual. Then email us today using the contact form and we will be pleased to answer any outstanding questions you may have. We look forward to hearing from you soon and maybe meeting you and helping you change your life or to help others.
---