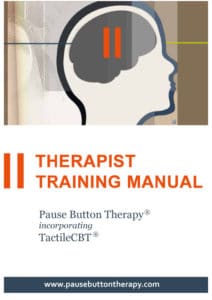 Training
The PBT, TactileCBT training manual is extensive, it aims to provide a sound understanding of the approach and the skills required to integrate it into your current client work practice. The training manual is offered at the level of continuing professional development. It is not therefore designed to be a comprehensive training program in CBT and obviously does not qualify readers to practice as therapists. Rather, it offers introductory training in a therapeutic approach that will supplement and extend existing therapeutic qualifications and skills. We strongly recommend that the manual is read in conjunction with the more general information provided in the book Pause Button Therapy, published by Hay House and available globally from Amazon.
The Manual will:
Summarise the origins of Pause Button Therapy/TactileCBT and the developmental process that has led to its current position in the therapeutic field.
Describe the theories and research that underpin PBT/TactileCBT.
Explain the differences between TactileCBT and other CBT-based interventions, and the contribution that it makes to the field of therapy.
Demonstrate how Pause Button Therapy/TactileCBT can be used to enhance and further develop current clinical practice.
Show how you can apply Pause Button Therapy/TactileCBT techniques to improve the well-being and outcomes of clients immediately.
Following the Introduction section, the manual is broadly divided into three sections:
Theoretical Framework
Working With Clients
Evidence Based Therapy introduction.
---
In addition to the PDF copy of the Therapist Training Manual, you will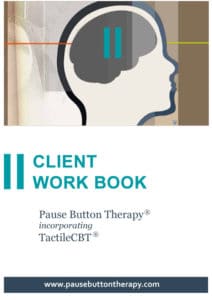 be supplied with a re- printable PDF copy of the Pause Button Therapy/TactileCBT Client Work Book, that can be reproduced and supplied to each client.
The Client Work Book, along with the PBT Cards and Wrist Bands, (available in various quantities at a reduced price for therapists) enable the client to be more absorbed and involved in their journey of change. The work book reinforces the work of the therapist and  explains to clients:
How Pause Button Therapy/TactileCBT can Change Their Lives
Explains the Alternative Choices and Actions they have.
How to Develop an emotional Connection.
Introduces, Explains Time Perspective, and it's importance.
Explains the Role of Thoughts
Encourages the recording of their Therapy Journey.
PBT Therapist Listing - An ever increasing number of clients are contacting us requesting contact details, for therapists, doctors or other institutions that are able to provide/deliver Pause Button Therapy/TactileCBT. We therefore intend in the near future to introduce an additional section to the web site, listing those therapists that have purchased the Training Manual and are qualified to administer, provide the therapy, both in the UK and Internationally.
---
Martin and Marion Shirran, to answer to just a few of the more often asked questions from therapists. As you would expect one of the first questions asked by a new client arriving at our clinic is around, "How Many Sessions will I need" maybe with us being a private clinic and them having to pay for each session this is understandable, but like all therapists know, it is really impossible to answer at the outset. PBT does provide rapid results, the average number of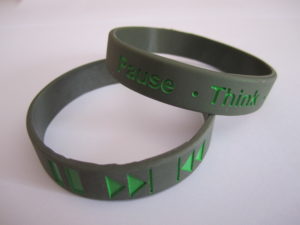 sessions at our clinic is just six, which would be provided on a weekly basis.
At the Elite Clinic we do not provide the Client Work Book and Wrist Bands free of charge, to ensure the clients perceived value of the therapeutic approach and materials is maintained we supply a printed copy of the Work Book along with a Wrist Band and Card for €8.50, we also strongly recommend that the client obtains a copy of the book Pause Button Therapy."
---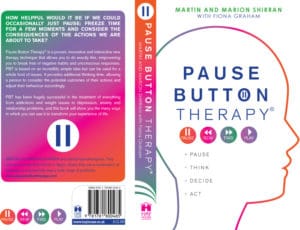 The cost of the Therapist Training Manual, along with a copy of the re-printable Client Work book, and an optional first year listing in the new international PBT Therapists Directory, as a PBT provider is just £54.00. Please note that there is no restriction on the quantity of Client Work Books that can be reproduced, but their use is exclusively for that purpose only. The manual pack can be purchased in the Shop Section of the site.
---
Pause Button Therapy/TactileCBT is for anyone who's ever made a mistake in their life and never wants to make one again. It's for anyone who wants to make a change.
---
Pause Button Therapy/TactileCBT Blog
Keep up to date with the latest news and trends around everything regarding Pause Button Therapy and TactileCBT, y visiting our Blog page. With new in-depth info being added every week make sure you book mark the page and visit regularly. Click here to see what everyone is talking about, feel free to share the link with your friends.
---
Contact Us

If you require any additional information around Pause Button Therapy and Tactile CBT. Further information regarding the PBT Cards and Wrist Bands, Work Books or the new Therapists Training Manual. Then , email us today using the contact form and we will be pleased to answer any outstanding questions you may have. We look forward to hearing from you soon and maybe meeting you and helping you change your life or of course assisting you to help others.
---