Pause Button Therapy & TactileCBT Shop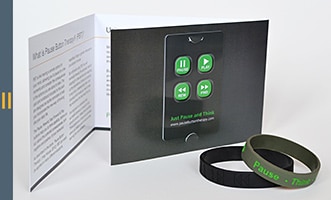 Pause Button Therapy Cards and Wristbands.
The PBT cards are of 'credit card' size and quality. They are manufactured with a slot cut out, so they can be easily fitted on to your key ring, or alternatively, they can be conveniently placed in your credit card wallet.
The PBT embossed silicone wristbands are available in two sizes, medium and large, and are supplied along with the PBT card and brief instructions, contained in a smart card wallet.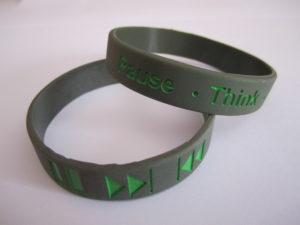 As is stated in the PBT book, we feel strongly that people using the PBT technique will benefit enormously by having a PBT device/card and one of the wristbands. The price of a pack of two cards, and two wristbands (one large and one small) is just £8.95 inclusive of postage and packing, within Europe. The cost inclusive of postage and packaging for International Clients is £12.95. Clients are also encouraged to consider the purchase of the Client Workbook as detailed below. Therapists or organisations requiring multiple Cards and Wristbands are invited to contact us for pricing variations.
---
Pause Button Therapy Client Work Book.
Many people who have purchased and read the Pause Button Therapy book, have subsequently contacted us wishing to purchase the PBT Cards and Wristbands as detailed above. The PBT book was written as a 'Self Help' tool for those that desired to introduce change into their lives. However it has been proven that, especially clients who are working alone, without the input of a therapist, require further assistance. We are now pleased to be able to offer the Client Work Book, which covers in detail:
How Pause Button Therapy/TactileCBT can Change your life.
Explains the Alternative Choices and Actions you have.
It will explain how to Develop an emotional Connection.
Introduces, Explains Time Perspective, and its importance.
Explains the Role of Thoughts
Encourages the recording of your Therapy Journey.
The Pause Button Therapy Client Work Book is available as a PDF download for just £6.95.
---
Pause Button Therapy 'Therapist Training Manual' and 'Client Work Book'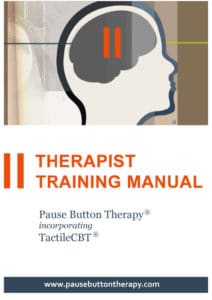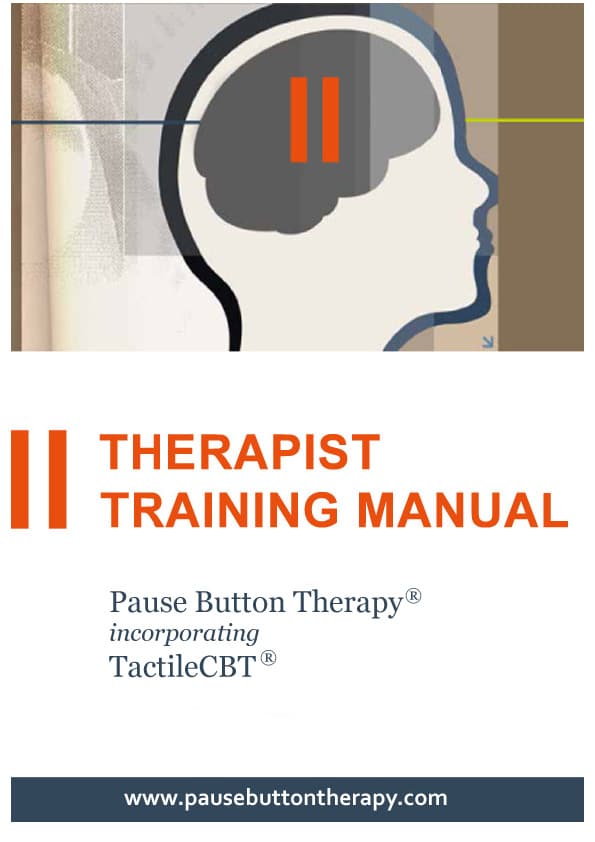 The extensive Pause Button Therapy Therapist Training Manual, as detailed in the Training section of this website, is supplied in PDF format for immediate download. The manual is supplied with a multi-print PDF copy of the Client Work Book, enabling therapists to supply the work book to their clients, either free of charge, or for a recommended fee.
The cost of the complete PBT training package is £54.00
---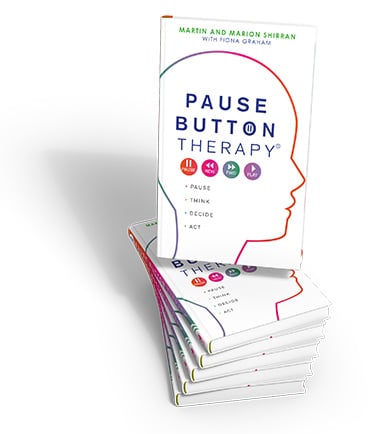 Pause Button Therapy, published worldwide by Hay House